A 30ml blend of Organic Cold Pressed Hemp Oil with 1000mg of CBD. Swiss Relief Nano-Technology and high speed emulsion methods create a micro-encapsulation of the molecules which results in greater bio-availability. The end result is more efficiency and better absorption leading to an increased effect. We are certain you will find this to be the strongest and most satisfying tincture you have ever used.
Ingredients: cold pressed virgin hempseed oil, cbd, natural flavors
You must be age 18 or older to purchase CBD products.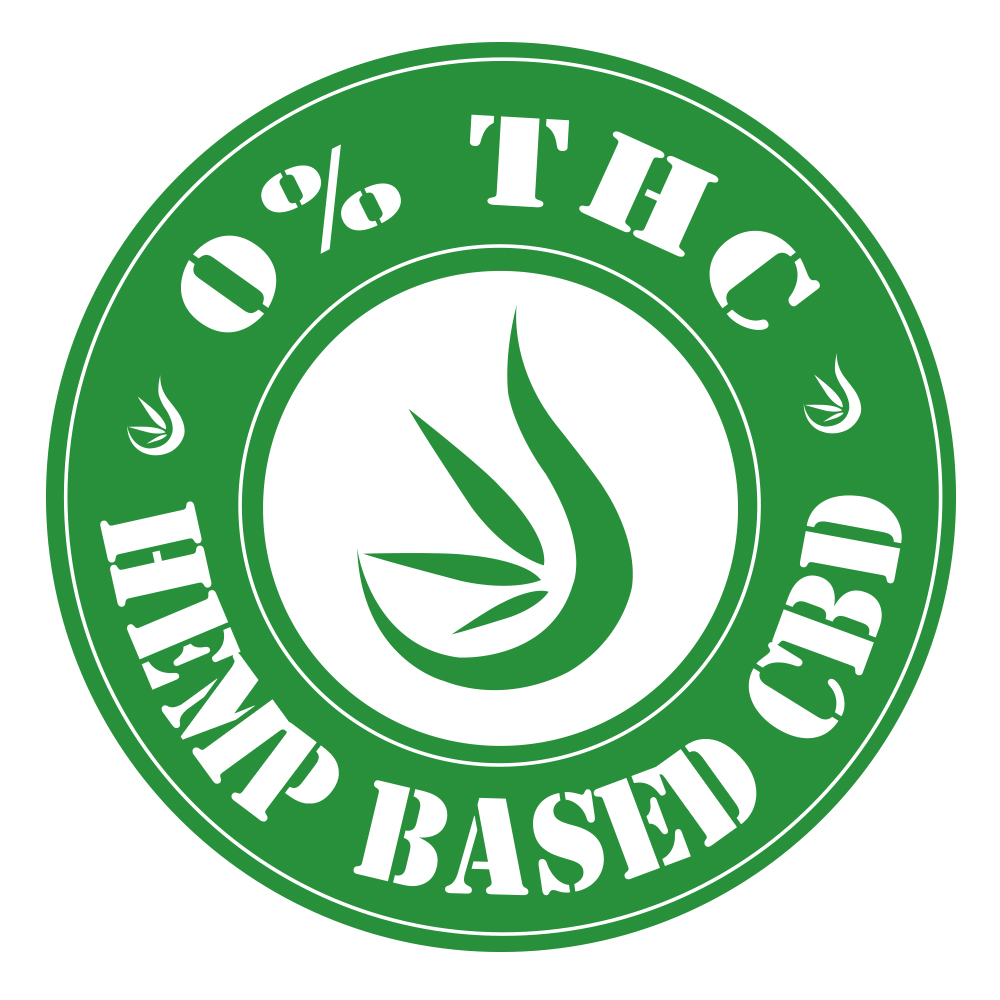 Why Swiss Relief CBD?
Not all CBD is equal. Physician's Choice products are made in the USA, with their CBD extracted from Kentucky grown Industrial Hemp. With 0% THC, their CBD exceeds the Federal Gov guidelines of 0.3 or less THC. Physician's Choice CBD is derived from a single cultivar of Cannabis Sativa L. and is processed from seed to bottle with a chain of custody that ensures its purity. Sustainable farming methods are utilized to Organic, Non-GMO ingredients are used where possible in its formulations. With Nano-technology, the Bio-availability is increased and their 3rd party testing means you are getting in the bottle what is on the label.
Swiss Relief CBD Third Part Lab Results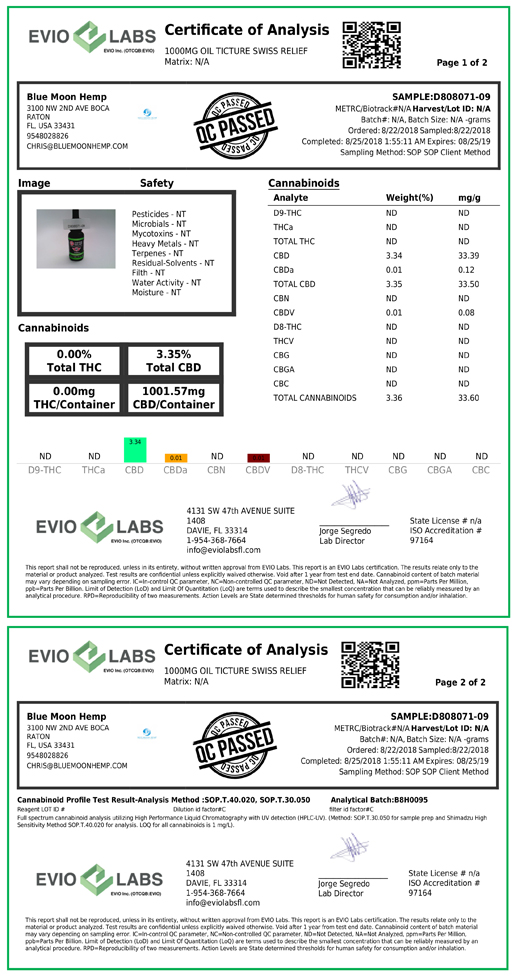 FOOD AND DRUG ADMINISTRATION (FDA) DISCLOSURE
The content of this website has not been evaluated by the FDA and is not intended to diagnose treat mitigate or cure any disease.
ATTENTION: You should not stop taking any medication that has been prescribed by your doctor. Swiss Relief products are never to be used in any other manner except as a nutritional supplement or in a recreational manner. This product is not for use by or sale to persons under the age of 18. It should not be used if you are pregnant or nursing. Consult with a physician before use if you have a serious medical condition or use prescription medications. All trademarks and copyrights are property of their respective owners and are not affiliated with nor do they endorse this product. The products on this website have not been evaluated by the FDA and are not intended to diagnose, treat, mitigate, cure or prevent any disease or condition. We make no medical claims as to the efficacy of this product. All Swiss Relief products are manufactured using Hemp derived CBD which is obtained in strict accordance with the provisions of the 2018 Farm Bill. By using this site, you agree to follow all Terms & Conditions published herein. Void Where Prohibited by Law.
CBD – short for cannabidiol – is one of many cannabinoids found in the Cannabis sativa or hemp plant. Essentially, it is one of hundreds of chemical compounds found in the Cannabis plant and has been shown to have many therapeutic and potentially pharmacological properties.
The unique cultivar or strain of Cannabis is ultimately going to determine the different levels of cannabinoids that will be contained in it. The two most prominent cannabinoids are CBD and THC, and strains of the plant are genetically bred to be rich in one or the other (or both). Typically, industrial hemp is cultivated for its multipurpose stalks, stems, and seeds (and CBD content), and marijuana is the strain that produces high levels of THC that is used for medicinal and recreational purposes. However, CBD can be derived from both marijuana and industrial hemp.
No. CBD has been shown in study after study to not produce a disoriented, foggy, or stoned state of mind. This is one of CBD's most important and distinguishing qualities when compared to THC and other drugs or medicines that cause unwanted mental or psychotic side effects.
THC mixed with CBD will make you high and that is why its important to select a CBD with 0% THC.
Be careful when you buy CBD products online. Oftentimes, there is THC in the product (although the level should be <0.3%), however, that can still show up on a drug screen. That is why Physician's Choice removes virtually any trace of THC from its products.
Physician's Choice CBD is derived from hemp farms in Kentucky that are certified to operate under the 2014 U.S. Farm Bill section 7606 and Kentucky state agricultural laws. In short, yes, Physician's Choice CBD oil is legal. However, laws related to industrial hemp and marijuana are different from state to state, so check your state and local laws to determine the status of CBD in your unique location.
How many milligrams of CBD oil should I take daily?
It is difficult to pinpoint an exact milligram amount of CBD oil to take per day because each person's body interacts differently with the compound and each person's reasons for taking it are unique.
However, a generally accepted starting point is 10-20mg of CBD per day. See how your body responds and increase or decrease milligrams to get the result you're looking for. Add up or down by 5mg to get just the right amount for your specific wants and needs.
What happens if I take too much CBD?
The most commonly reported side effects of taking too much CBD is dry mouth and heavy sedation.
CBD is widely considered as having a good safety profile without causing negative side effects typically associated with marijuana and other strong medications.
If serious complications or symptoms occur, please contact a medical professional immediately.
*FDA DISCLOSURE: The content of this website has not been evaluated by the FDA and is not intended to diagnose, treat, mitigate, or cure any disease*
How long does it take for CBD oil to start working?
The answer to this question depends on how you are ingesting the CBD, how much CBD you are taking, and what you are trying to achieve by taking the CBD oil.
CBD edibles, tinctures, and gel caps arguably take the longest amount of time to begin feeling their effects because they must pass through many different bodily systems and organs. Effects can be felt in as little as 30 minutes or as much 2 hours later; it varies from person to person. It also depends on how long before and how much food was eaten prior to taking the CBD oil. If your preferred method of taking CBD oil is through tinctures, edibles, or gel caps, taking it on an empty stomach will allow it to pass through the metabolic and digestive processes quicker and into the bloodstream.
It is always best to start at a low amount, see how your body responds, and increase or decrease based on need or desired effect.
Because of the body's endocannabinoid system (ECS), and the fact that our bodies produce their own cannabinoids (CBD and THC are cannabinoids produced by the Cannabis plant), we are very receptive to cannabinoids that we consume. Reactions can be mild or strong, so starting at a low quantity of CBD is recommended.
*FDA DISCLOSURE: The content of this website has not been evaluated by the FDA and is not intended to diagnose, treat, mitigate, or cure any disease*
Are CBD and Hemp oil the same?
No, hemp oil and CBD oil are not the same. While they both are derived from the same plant (the Cannabis plant), the oils come from different parts of the plant and capture different substances found in the plant. Hemp oil may contain traces of CBD, but it is negligible.
Hemp oil is typically derived from the stalks and seeds of the hemp plant, whereas CBD is most prevalent in the resinous flowers or buds of the plant. CBD is a chemical compound that must be isolated and extracted from the hemp plant before it can be turned into the CBD oil you find on the shelves of your local store. It is extracted and isolated into a crystalline substance which is then added to a carrier oil (sometimes that is hemp oil) for use and consumption.
Hemp oil is rich in vitamins and fatty acids, and its nutritional value is well recorded throughout ancient and modern history.
CBD is a recently-discovered compound, and its therapeutic and medicinal uses as a tincture, edible, or capsule are only beginning to be uncovered. The results are promising, and our knowledge and understanding of the potential of CBD oil is only growing.
Swiss Relief CBD Hemp Oil Tincture, 30ml, 1000 CBD mg
Manufacturer: Swiss Relief
Product Code: CBD Tincture 1000MG