Delivery Information
Standard Shipping and Processing

Orders are shipped from our distribution center in Utica, NY or directly from a manufacturer. All orders are shipped UPS Ground or USPS (Unless faster service is requested) and should be received within 2-5 business days once they ship. Once your order is processed, you can log into your Mohawk Medical Mall account and obtain tracking info. Orders that ship direct from a manufacturer cannot be tracked this way because of various shipping methods. Simply contact our customer service team and we will be happy to track your order through the manufacturer. Since items ship from different sources, items on the same order may arrive different days.

Below is an UPS Estimate Transit Time Map to determine your orders transit time when your order is shipped from our Utica NY warehouse.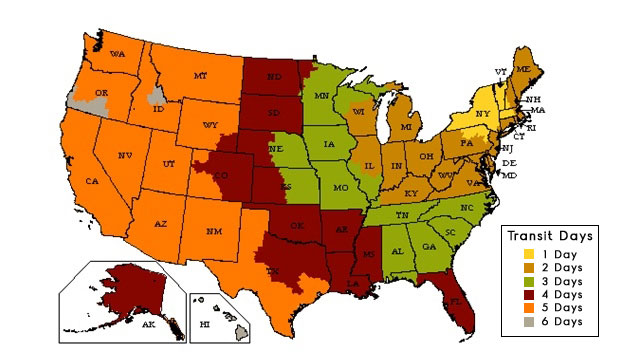 Shipping Charges

8 BUCKS for orders under $100

Orders over $100.00 will not be charged shipping*** (see below for exceptions)


Additional shipping charges will apply to orders that...

(1) Ship to Alaska or Hawaii
(2) Contain refrigerated products that must be shipped overnight. These products are noted with a "Refrigerated Item" field above the "Add to Cart" button when ordering the product. Please Email our customer service department or call 1-855-366-4295 for a shipping quote prior to placing your order.
(3) Contain products that cannot be shipped by UPS and must be shipped by Truck. These products are noted with "This item requires Truck Delivery Additional Charges Will Apply" in the shipping section of the item. Please Email our customer service department or call 1-855-366-4295 for a Truck shipping quote prior to placing your order.

Truck Shipping Charges

Equipment items that require truck delivery do not qualify for our standard shipping policy. These items will display "call for quote" on the item page. Prior to ordering, you may contact customer service for a freight quote. If you order a truck shipment item without a quote, your order will be held in processing and you will be contacted with a truck shipping quote to approve. We offer the following truck shipping option:

(1) Tailgate Delivery-Customer's facility has a loading dock. The freight carrier will deliver the equipment to customer's dock. It is the customer's responsibility to unload the equipment and bring into facility. Customer must make sure the facility is accessible by a 53'long truck.
(2) Liftgate Delivery-Customer's facility does not have a loading dock. Freight carrier will unload the equipment to ground level by a liftgate or ramp. It is then the customers responsibility to carry the equipment into the facility. Note: Freight carrier will not bring the equipment into the facility.
(3) Inside Delivery-Customer's does not have a loading dock. Freight carrier will unload the equipment to ground level by a liftgate or ramp and bring into the inside the entrance level of your building. It is then the customers responsibility to carry the equipment into the facility and to the equipment's destination room. Example: If the equipment's destination room is on the 8th floor of customer's building, the freight carrier will deliver only to the entrance of the bottom floor. Customer will be required to bring up to the 8th floor.
(4) White Glove Service-Freight carrier will deliver the equipment by liftgate or ramp and bring inside the facility. The freight carrier will then bring the equipment to the destination room regardless of what floor it is on. Once freight carrier delivers into destination room, they will remove skids and trash involved with the delivery. Note: Freight carrier is not responsible for putting accessories on equipment, leveling tables, programming equipment, putting on upholstery tops of tables or moving/removing old equipment.

Upon requesting White Glove Service, please let customer service know:

What floor the equipment will be delivered to?
Is there an elevator that can be used?
Are there physical obstacles that will prevent delivery into entrance of facility or equipment destination room

Not disclosing this information may prevent the trucking company from completing the delivery and you may be responsible for shipping charges, return shipping charges and restocking charges.

Quick Ship Orders

We do offer UPS 3-Day, 2-Day and Red Overnight shipping services upon customer request. For a quote on one of these quicker options, please please contact our customer service department for a price quote prior to placing your order. UPS shipping is based on standard business days (Ex. If we ship your order by UPS 2-Day on Friday, you will receive your order in 2 business days, or Tuesday of the following week)