**Only a select number of Upholstery Colors available at this price. Please contact Customer Service for a quote. If your color choice is not available for this model, please see our New 204 Listing by

clicking here

.**
Tops Available (Call to Verify)
Stitched Perfect Plum - 2 Available
Stitched Clay - 2 Available

Stitched Black - 1 Available
Midmark found that you need an exam table that allows easy access for patients, making them feel secure; three side drawers foroptimal supply management; modern styling to coordinate with your office; an updated, ergonomic top design to help patients feelcomfortable; and additional weight capacity to handle heavy patients.
Stirrups Included


One-Piece Seamless Drawers
One-piece seamless drawers have easy-to-clean rounded edges and are designed to contain spilled fluids, keeping them from otherareas of the table, thereby improving infection control.

Stylish & Easy to Clean
The ergonomic design of the upholstered top is as soft and comfortable as it looks, leaving your patients feeling more relaxed.The seamless upholstery eliminates areas where dirt and bacteria can accumulate so clean-up is easier, faster, and moreeffective.

Removable Top System
The one-piece, upholstered top can be easily removed without tools, allowing a thorough cleaning or a quick upholstery color change.

Enlarged Footstep
We increased the size of the footstep over 40 percent above the industry standard. This allows patients to feel more secure andget on the table more confidently… putting minimal strain and stress on physicians or their staff. The step has an easy-to-clean, slip resistant surface with rounded edges for added security. And, the step is reinforced with steel to minimize deflection, providing the patient an increased sense of stability.

Storage Access and Volume
Our pass-through side drawers provide access to supplies from either side of the table and give you the ability to change your room configuration when you want to. Three spacious side drawers provide plenty of storage volume for gowns, drapes, and other items, yet are made to help organizeyour assortment of smaller supplies and bulk supplies. In addition, there are two front drawers for easy access to items duringpelvic exams.

Increased Weight Capacity
Today's increasing patient weight puts added demands on exam tables. The Midmark 204 is designed to safely support more weight than standard manual exam tables – 500 pounds.

Soft Touch Upholstery Top
A low cost option, the Soft Touch upholstery top gives a soft and functional alternative for your practice.

Features
Multi-Density Foam Top Design
Powder-coated paint finish
18-guage steel shell
Seamless polystyrene drawers
Ball-bearing drawer glides
500 lb. weight capacity
Steel Reinforced Seat to support patient in seated position (prevents seat deflection and future breakage).
Comfort designed stirrups help make the lithotomy position a little easier for your patients.
Electrical
115 VAC, 50/60 Hz, 5.0 AMPS (with receptacle)
115 VAC, 50/60 Hz, 5.5 AMPS (with drawer heater)
UL 60601-1 and Can/CSA 601.1-M90 Standard for Safety
CE Mark
Are you a member of Premier, Vizient (Novation/MedAssets) or Intalere (Amerinet)?
If so, you may qualify for a discounted price on this product. To check eligibility, simply contact our Customer Service Team at 855-366-4295 or sales@mohawkmedicalmall.com.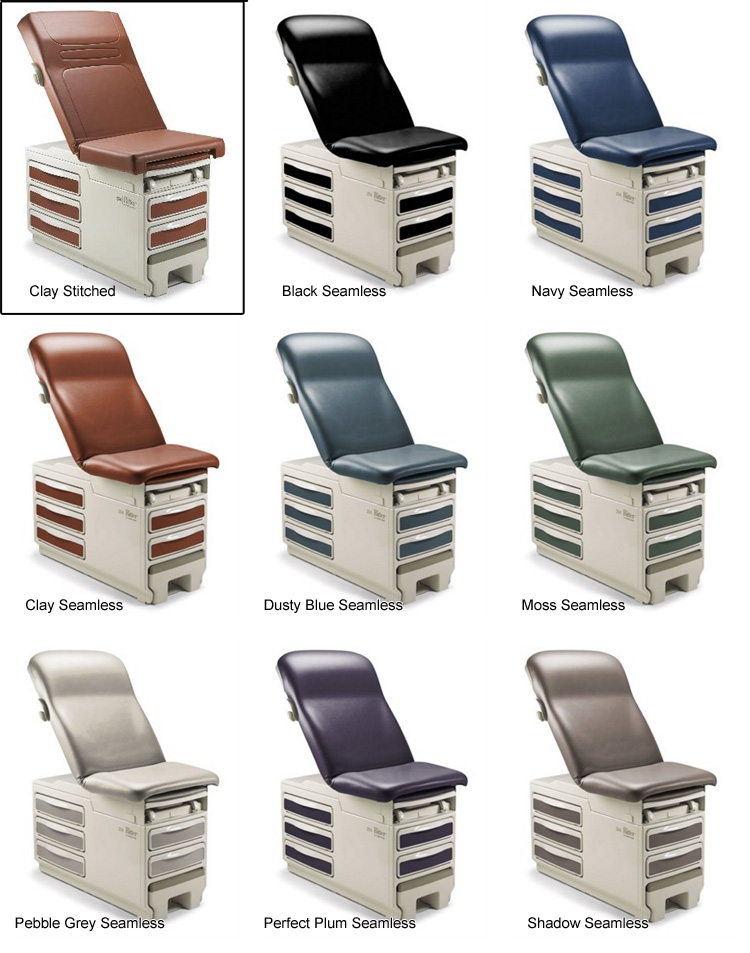 This product must be shipped by Tractor Trailer. Additional Charges Will Apply.
This product requires Truck Delivery and DOES NOT qualify for Free Shipping. Prior to ordering this product, please contact Customer Service to obtain a Freight Quote. If you continue to place an order without a Freight Quote, your order will be held until you approve those additional charges. Delivery options for this product include:
Tailgate (Dock to Dock) Delivery
Customer's facility has a loading dock. The freight carrier will deliver the equipment to customer's dock. It is the customer's responsibility to unload the equipment and bring into facility. Customer must make sure the facility is accessible by a 53' long truck.

Liftgate (Curbside) Delivery
Customer's facility does not have a loading dock. Freight carrier will unload the equipment to ground level by a Liftgate or ramp. It is then the customers responsibility to carry the equipment into the facility. Freight carrier are not required to bring the equipment into the facility.
Inside (1st Door Only) Delivery
Customer's does not have a loading dock. Freight carrier will unload the equipment to ground level by a liftgate or ramp and bring into the inside the entrance level of your building, as long as the pallet will fit through the doorway. It is then the customers responsibility to carry the equipment into the facility and to the equipment's destination room. Example: If the equipment's destination room is on the 8th floor of customer's building, the freight carrier will deliver only to the entrance of the bottom floor. Customer will be required to bring up to the 8th floor.

White Glove Service (Includes Setup and Trash Removal)
Freight carrier will deliver the equipment by liftgate or ramp and bring inside the facility. The freight carrier will then bring the equipment to the destination room regardless of what floor it is on. Once freight carrier delivers into destination room, they will remove skids and trash involved with the delivery. Note: Freight carrier is not responsible for putting accessories on equipment, leveling tables, programming equipment, putting on upholstery tops of tables, installing or mounting any equipment or moving/removing old equipment.
Midmark 204 Exam Table with Upholstery Top
Brand: Midmark
Product Code: 204

Additional Freight Charges Will Apply
See Tabs for More Information
More Reviews
Related Products